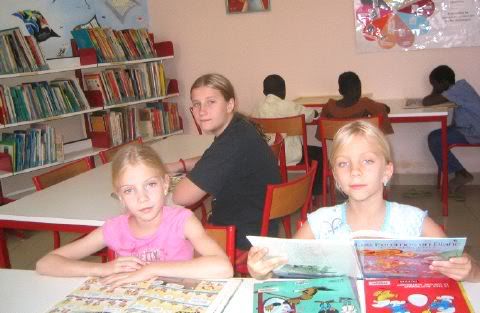 The French cultural center here in Ouagadougou (aka the CCF) has numerous facilities open to everyone. You can hang out at the outdoor bar and drink Flag beer or Pernod, you can see a depressing French film, you can see the myriad of strange ways that the Burkinabé have interpreted "Hip-hop"- mostly, it is boring and noisy, so I guess it's the same everywhere. You can also experience the finest in Modern African dance. None of that old-fashioned stuff of our ancestors! This stuff is cutting edge! I took my mom to see one of the shows when she was here. At one point, one of the dancers just stood there looking down for rather a long time. I though she was being contemplative. Silly me.
Mom whispers to me "Look...I think she's spitting!"
"No way!"
"Yes, way! Look- that's strings of saliva! She's drooling!"
"Oh, God! I see now! It's going to hit the floor!"
We were quiet again and glanced around. We seemed to be the only ones in the audience amazed by this. Everybody else acted like they saw this kind of thing every day of the week and twice on Sundays.
"Beth! Look! Look!"
My head snapped around just in timeto see our star danseuse and one of her lucky cohorts rolling on the floor, right through the saliva lake!!!! And they rolled and rolled in it. (As Zoroaster is my witness, this is the truth and not an April Fools joke!!)
I am not sure what the heck that was supposed to be, but it sure made a person long for a couple of djembés and some nice, rythmical stomping around.
But the CCF is so much more! Besides seeing saliva-covered people writhe on the ground, you can ALSO visit the very nice little library. It can be hard to get books here in Burkina. There are only a few bookshops and they are quite expensive compared to USA. So, the CCF has a small air-conditioned library. There aren't that many books and you can only borrow two at a time, but it's better than nothing. I took the girls there this morning and you can see them reading comic books in the picture I took. You are not allowed to check out comics and magazines, but must read them there.
Severin refused to come. He had missed out on our Thursday trip to get English books at the ISO library and was still fuming. "French books? I don't want crummy French books! I wanted to go to ISO!"
I would have taken the poor child, but the ISO isn't open on the weekend.
Actually, he reads really well in French, as do all my kids. But I think they all prefer reading in English (which I taught them to do at home) Maybe French reminds them of school?
All four of them read a great deal in French and English, which is my idea of what "good" children are like!
Yes, it's true- EVIL children vivisect puppies and don't like to READ!